General description of subclass goes here!
Etherealist AAs
Edit
| Name | Effect | Cooldown |
| --- | --- | --- |
| Arcane Whisper | Arcane Whisper reduces hate on a single target slightly over time. Additional ranks further reduce hate on your target. | 30 Minutes |
| Armor of Experience | This ability grants you several layers of protection from harm. As you take damage each layer will absorb ten strikes before failing. As your armor fails you will take more and more damage. | 20 Hours |
| Aspect of Zomm | This ability gives you an alternate version of your Aspect of Zomm spell. (summons eye of zomm) | 6 Seconds |
| Call of the Hero | This ability provides an alternate form of your Call of the Hero spell. Rank 2 reduces the cast time of Call of the Hero by 2 seconds. | 15 Seconds |
| Companion's Relocation | This ability moves your companion forward in the direction you are facing. | 5 Seconds |
| Perfected Levitation | This ability grants you a perfected ability to Levitate on demand. | 12 Seconds |
| Spell Casting Fury | The three ranks of this ability give you a 2, 4, and 7 percent chance to land critical hits with your direct damage spells. | Passive |
| Teleport | Currently Unavailable | N/A |
| Translocational Anchor | While under the effect of this ability, an NPC will not be able to gate away from you. Additional ranks increase the duration of the effect. | 5 Minutes |
Spells/Abilities
Edit
There is currently no subclass quest to become an Etherealist, this will be implemented at a later time. (Current as of 02/09/16)
Subclass Item
Edit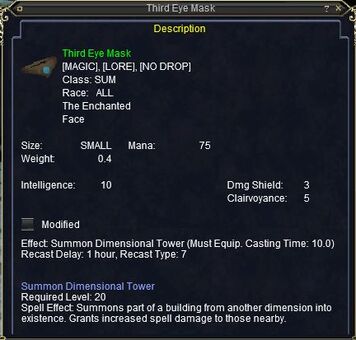 When you become an Etherealist you will be granted the Third Eye Mask
Ad blocker interference detected!
Wikia is a free-to-use site that makes money from advertising. We have a modified experience for viewers using ad blockers

Wikia is not accessible if you've made further modifications. Remove the custom ad blocker rule(s) and the page will load as expected.